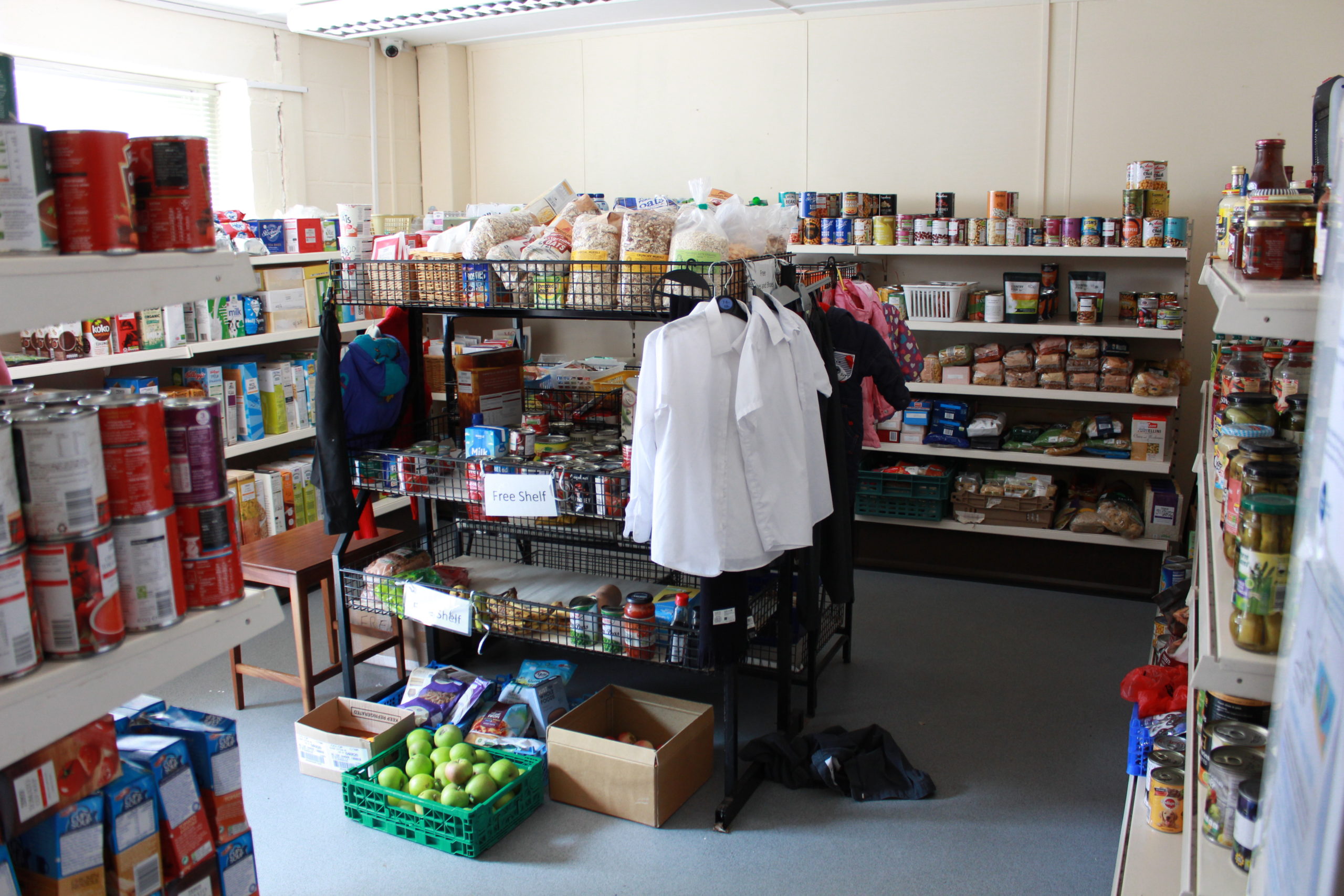 The Foodbank @ Newmarket Open Door
We are a member of IFAN, Independent Food Aid Network, whose vision is of a country which doesn't need emergency food aid and in which good food is accessible to all.
Newmarket Foodbank
The Racing Centre, Fred Archer Way, Newmarket, CB8 8NT
To contact The Foodbank call (01638) 561711 during opening hours or leave a message on the voicemail.
Alternatively, email: foodbank@newmarketopendoor.org.uk
Mon – Closed
Tue – 10:30 am – 2:30 pm
Wed – Closed
Thu – 10:30 am – 2:30 pm
Fri – 10:30 am – 2:30 pm
Sat – Closed
Sun – Closed
We recommend you get a referral from one of our referring agencies, but in an extreme emergency you can self refer by emailing: foodbank@newmarketopendoor.org.uk or giving us a call.
Citizens Advice
Job Centre
GP Surgery
Social Services
West Suffolk Council
East Cambridgeshire District Council
COVID Community Helpline (01638 667227 or 0800 876 69926)
Domestic Violence and Abuse Services
As the store is only small, a very limited number of people can visit at a time. We ask you to call using the information above in advance to book a slot for your visit.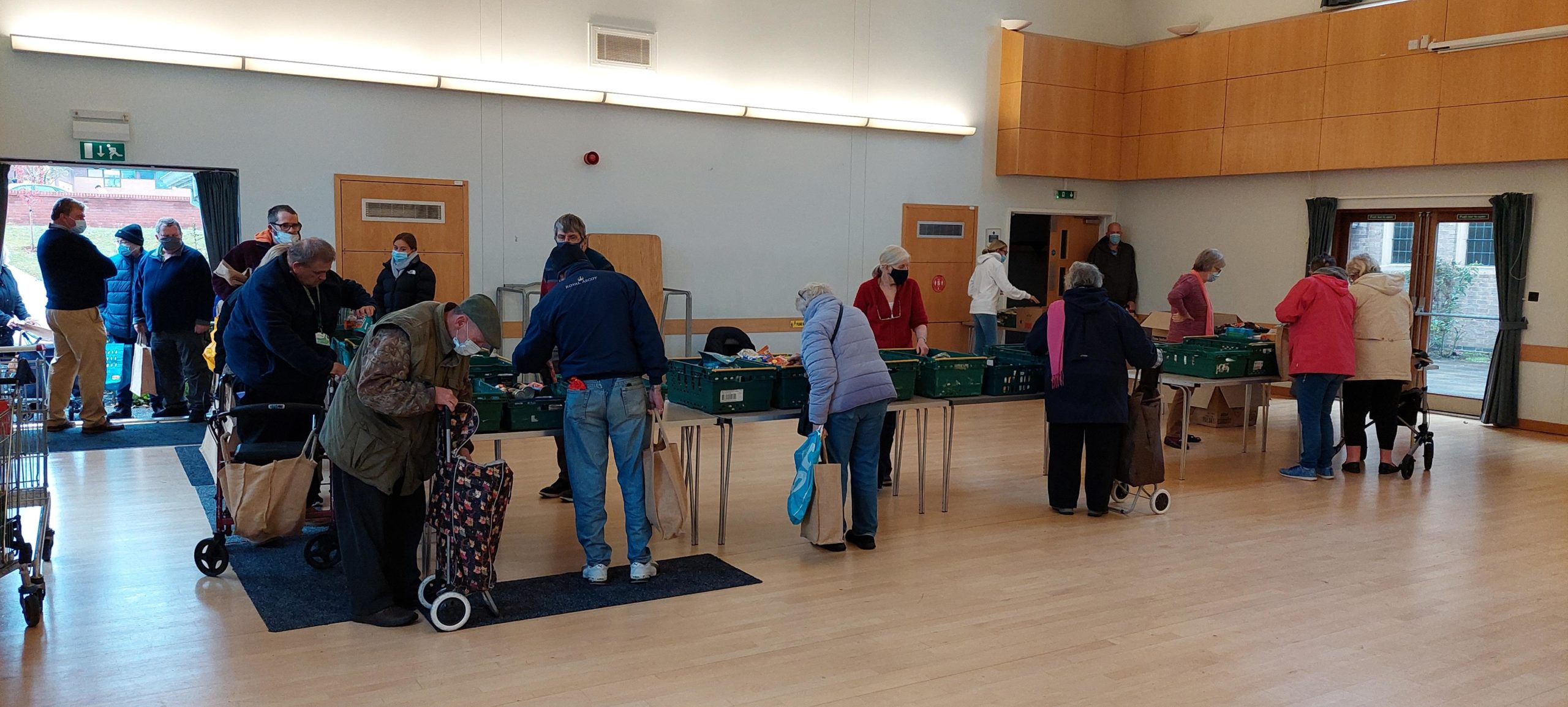 Community Pop-up Shop
OPEN TO ALL – JUST £2 PER VISIT
The Community Pop-Up Shop is held every Thursday at 10:30am at the Catholic Church Parish Centre, Exeter Road, Newmarket (next to Waitrose)
ALL WELCOME
Products often available
Tinned soups, meat, fish, beans, fruit and vegetables
Packet soups, flour, sugar and dried vegetables
Jars of gherkins, beetroots, olives
Frozen foods including ready meals
Fresh fruit, salads and vegetables
Breakfast cereals
Biscuits, cereal bars, chocolate, sweets and cakes
Cooking sauces, tomato sauces, chutney, mayonnaise, salad cream
Water, lemonade, squash, cola, juices, milk and other soft drinks
Cat and dog foods, tins, pouches, dried foods and litter
Soap powder, bleaches, washing up liquid, toilet cleaners, dishwasher tablets and other cleaning products
Shampoos, conditioners, toothpastes, soaps, shaving gels and other personal hygiene products
Seasonal items such as Easter Eggs and Christmas Puddings
Fresh bread, cakes, doughnuts, fruit and vegetables
and much more!
Thanks to Our Suppliers!
Tesco & Waitrose Newmarket for their donations of fresh food through Fairshare. Co-op Store, Newmarket and Burwell. J Sainsbury for groceries from their distribution centres. FareShare, supermarkets, wholesalers, caterers, churches and schools (especially at Harvest Festival), sponsors, clubs and other charities.
These wholesalers and retailers donate items for a variety of reasons, of course, the main being to help! Every product is safe for consumption, but may contain past 'best before end' dates. Meaning the manufacturer does not guarantee the quality of the product. Other reasons for donations are:
Incorrect or changes to packaging
Discontinued products
Insufficient shelf life for distribution through shops
End of trial runs
Damage to outer packaging
Donations from Shop'n'Share and other public sources
Passed Best Before End dates
If you or your organisation or business would like to make a donation, as a one-off or on a regular basis please contact Charles Dore on (01638) 600699 or 07931 864018.
Become a Foodbank Volunteer